June 2010
---
A Girl & her dog


Kaira with Sierra at the park.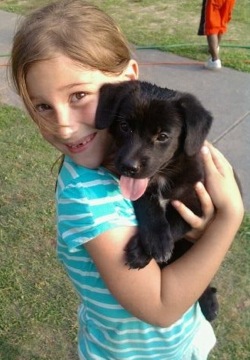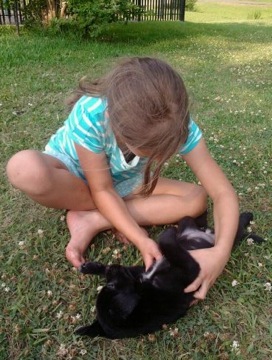 And poor Sierra in a Build-A-Bear ballerina outfit... luckily for the puppy, she will soon outgrow the bear clothes and won't have to be dressed up in tutus for too much longer. Kaira thought it was the cutest thing. Note the ballet slippers on the dog's back paws!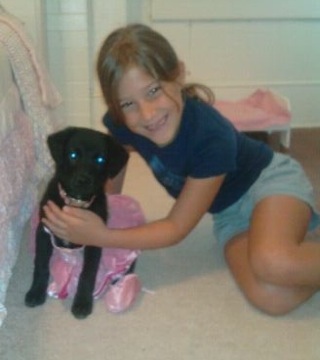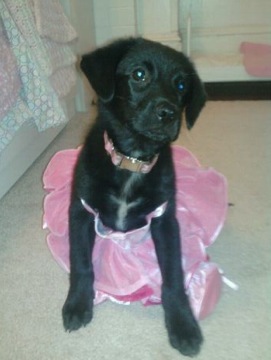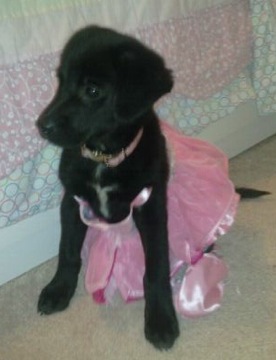 Kaira & Sierra riding in the car, and taking a nap together...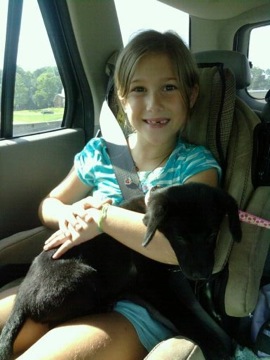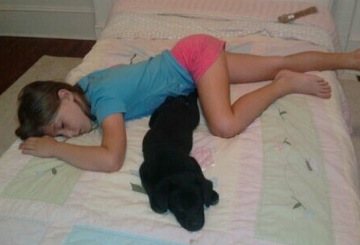 Sierra @ 7 wks old

---
First Day of Summer
For the first day of summer, we celebrated by BBQing, making smores & lemonade, and pitching a tent. It was REALLY hot outside (like 90+ degrees at 10pm!) so we decided to camp out inside instead... cheating, I know, but still got to break out the tent and sleeping bags. I forgot to take any pictures that night, but Kaira begged to leave the tent up so she could play in it the next day. She turned it into a playhouse for her and Sierra - you can see Sierra tucked in under a blanket in the background.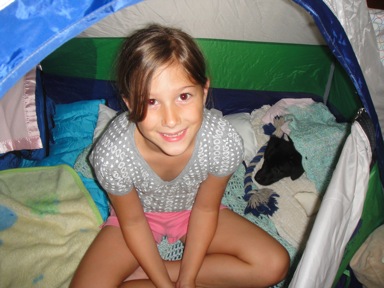 ---
A Walk in the Park
Kiddo & puppy on a walk in the park, and pausing to rest on a park bench.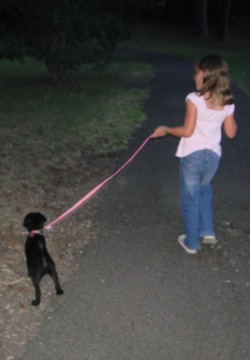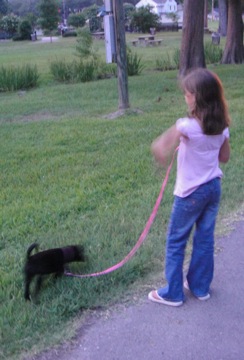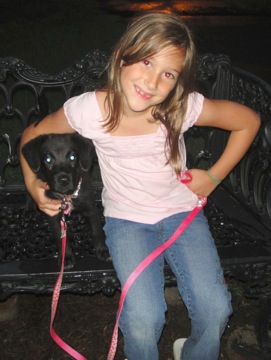 ---
The Big Bad Board Test
Sorry I have so few pictures for June. My big national board test was this month, and I have been doing practically nothing but study, all day, everyday, for weeks on end (~12+hrs/day, 7 days/wk, for 7 weeks... ouch!). This test covers ALL of the material that we have learned in the whole first two years of medical school, and we have to pass to be able to move forward. It is supposedly the 'biggest test of our career'. The stack of books below is just a sampling of the materials that I was supposed to go over in the 7 weeks I had to study.

[Update - I got my scores back early July... and *drum roll*... I PASSED!!!]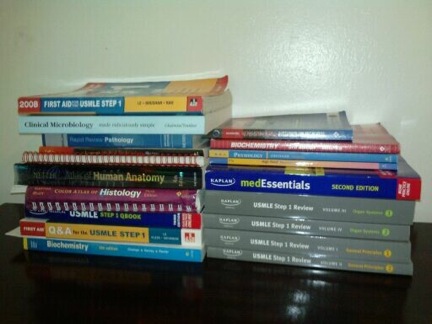 ---
Haircut
My board test was three days after my birthday, so for my birthday... I studied. The one thing I decided to do though was to cut my hair - it was time for a change anyway. Plus it's summer and really hot here, so I chopped it all off. Enjoying the new look, and the fact that it takes less time to fix in the morning.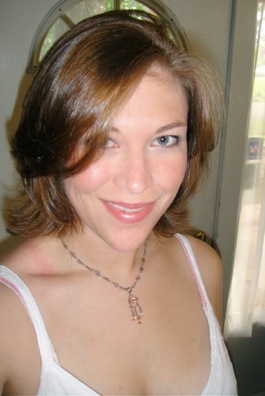 ---
I start my 3rd year of medical school on July 2nd... finally moving into the clinical years. Each block is 8 weeks, and my first rotation is Psychiatry. It will consist of 2 weeks on the in-patient ward, 2 weeks in the Psych Crisis Unit (the PCU = psych ER), 2 weeks on the consult team, 1 week on Neurosurgery, and 1 week on Neurology. Wish me luck!
---